Weight Loss > Weight Loss Success Story > Support - (3 of 10)
Support and Touching Motivation to Lose Weight
Ever since childhood, my brother Casey and I have always been close. In December of 2000, my brother's concern for me had grown to fear for my life. He could see things I had blinded myself to.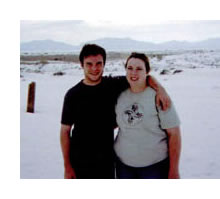 I was definitely unhappy, and he knew it. We sat down and had a talk one afternoon and his words, his sincere concern, cleared my vision. At the time of our heart-to-heart, the excess weight was putting such a strain on my body that my heart would beat dangerously fast even while lying down to go to sleep at night. I would wake up gasping for breath and become unable to get back to sleep. This had gone on for months. It's amazing how I could blind myself to those things for so long, but one talk with my little brother, could bring my sight back and make me realize that something was terribly wrong. A change needed to be made.
In January of 2001 I started to make those changes. I tried my hardest to undo all the unhealthy things I had been doing to my body. In six months I had lost 30 pounds. Finally feeling like I was on the road to health, I was about to receive very unexpected and beautiful news. This was news that would change my life.
<< Prev Next: Unexpected Emotional Roadblocks >>
Congaplex - 150 Capsules - Standard Process

A powerful immune support product that helps support healthly function of the upper respiritory tract. Read more...
newsletters
empowering health
calculators
nutritional support for common conditions
site features